This is the best insurance on your solarium, no doubt!
Enjoy your investment with peace of mind for decades!
At Solarium Espace de Vie, the service goes far beyond the structure. We wish to help you realize the room of your dreams and will do everything in our power to give you complete satisfaction.
In addition to unparalleled personal service, we offer high quality, affordable solariums that combine design, comfort and durability.
All our solariums come with a guarantee of 10 to 20 years depending on the chosen products.
The solarium installation, the most important factor
Since the purchase of a solarium is a major investment, most consumers take great care to study all the specifications of the product they covet;
Insulation standards
Construction materials used and the assembly of materials
Certifications, for example ENERGY STAR
The quality of the glass
Etc.
However, many consumers forget to learn about the company itself.
Has the company been in business for a long time?
Who will install the solarium?
What are the skills of these people?
What are their certifications?
What are the warranties related to the installation?
Questions? Contact an advisor immediately
3 seasons solarium
Structure: Lifetime warranty, transferable
Vinyl: 10 years against yellowing, cracks
Single glass: 15 years
Aluminum roof: 20 years
Acrylic roof: 20 years against hail, discolouration and yellowing
Hardware: 1 year
2 year warranty on the installation
3 seasons + solarium
Structure: Lifetime warranty, transferable
Double glass: 15 years
Aluminum roof: 20 years
Hardware: 1 year
2 year warranty on the installation
4 seasons solarium
Structure TRANSITION and ELEMENT: 20 years
European structure: 10 years
Double glass, thermos: 20 years
Insulated roof: 20 years
Glass roof: 10 years
2 year warranty on the installation
Member of the guarantee plan of
QUALITY RENOVATION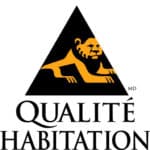 General Contractor Licence
RBQ : RBQ5626-9319-01