3 seasons + sunroom
Our double glass model is a 3 seasons + solarium. We call it 3 seasons + because it uses the structure of our single glass model, but it is insulated so that it can be used all year round.
A 3 seasons + sunroom
High density 3-inch foam insulation boards will keep your room warm and comfortable to extend your seasonal use.
The 3-inch thick extruded aluminum walls provide excellent protection against the wind and the weight of the snow.
The windows are double glass with Low E Argon gas.
You will live in this new room of the house like all the other rooms, while enjoying the sun and the changes of seasons. Nature will become always accessible while keeping you warm.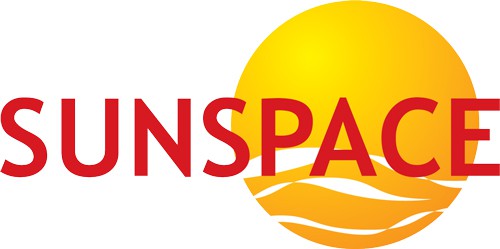 A MORE SOLID STRUCTURE
Covered with aluminum and insulated with 3-inch polystyrene;
3-inch insulated aluminum pillars with thermal break. Very solid;
Each extrusion contains a thermal break that will reduce condensation and heat loss;
Several colours available
DOUBLE GLASS WINDOW
Window opening up to 50%;

Sliding windows in both directions;

Fibreglass screens, possibility to remove them for the winter;

Available shades: clear, smoky grey, bronze;
USE
Patio, verandas
Additions to a room
Additions to a mobile home
Additions to a trailer
Independent structures
Front doors
Gazebos
INSULATED FLOOR

R32 insulated floors consist of 8-inch insulating foam between two 0.5-inch oriented compressed wood shavings panels ("aspenite"), providing 25% greater insulation than conventional construction floors. Screwed posts for solariums are installed to support the floor.
This type of floor avoids expensive foundation work.
In addition, the surface finish can accommodate almost any type of flooring, including vinyl, wood, heated floor and tiles.
De plus, le fini de la surface peut accueillir presque tout type de revêtement de sol, notamment le vinyle, le bois, un plancher chauffant et la céramique.
FULL ROOF – INSULATED ROOF WITH HIGH DENSITY PANELS AND ALUMINUM COVERINGS

Full roof – Insulated roof with high density panels and aluminum coverings
The thickness of our roofs can vary between 3 and 4 inches depending on the depth of the solarium. The construction varies according to the assessment we make regarding the degree of the slope, the snow load to bear and the necessary insulation factor.
They are perfectly insulated with high density panels and covered with aluminum. Also, they can be covered with asphalt shingles to fit perfectly with the roof of your home.
Our roofs have a system of internal channels that directs condensation to the integrated gutters. This prevents any mould from developing.
It is a maintenance-free system that is offered as standard equipment on all our models.
Integrated cross beams will allow ceiling fans, lighting or plants to be attache
HYBRID ROOF – ROOF WITH 50% LUMINOSITY AND 50% SHADE

Available for vinyl, single or double glass window models.
The hybrid roof is an alternation between aluminum and acrylic panels offering the advantage of each. Indeed, the acrylic allows a beautiful luminosity to enter the room while also bringing shade.
We custom build full roofs that can also incorporate acrylic sections.
It is like adding skylights to your roof.
ACRYLIC ROOF – ROOF WITH 100% BRIGHTNESS

The acrylic roof provides maximum light effect for your space. It blocks 100% of ultraviolet rays and filters the sun to provide a soft ambient light. The product is guaranteed for 30 years.
Our acrylic roofs are made to measure. They can therefore adapt to all shapes and sizes of solariums.
The advantages of our acrylic roof compared to the conventional polycarbonate roof are the following:
It will not age with time.
It will not yellow.
It will last about three times longer.
The product is available in several shades that will allow more or less sun rays to pass, according to the chosen model. Whatever the model, they block all ultraviolet rays.
Acrylic models can be combined to create the look you want.
Our acrylic roofs:
Resist hail and wind because they are very rigid.
Support the weight of the snow.
Do not make condensation. Patented process.
Cannot burst.
Available colours :
Clear
Translucent
Pearl
Bronze